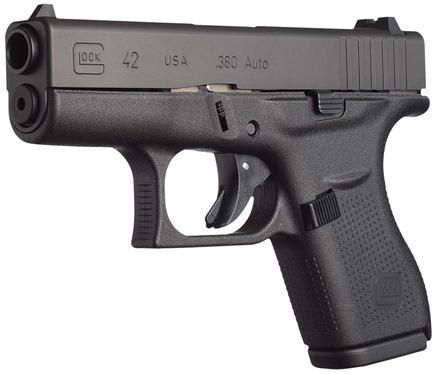 G42 SUB COMPACT .380ACP 3.2" 2/6RD MAG USA
DESCRIPTION
The new GLOCK 42, in .380 AUTO, is a slimline subcompact pistol engineered with the GLOCK Perfection promise and able to withstand the rigors of routine training. Made in the USA, the G42 is the smallest pistol GLOCK has ever introduced, making it ideal for pocket carry and shooters with smaller hands. Years of requests across market groups for a super-concealable, reliable single-stack .380 GLOCK pistol prompted extensive research and development to bring the GLOCK customer the G42.
• Length: 5.94"
• Height: 4.13"
• Width: .94"
• Barrel Length: 3.25"
• Unloaded: 13.76 oz.
• Loaded: 17.29 oz.
• Barrel Rifling: right hand, hexagonal
• Length of Twist: 9.84"
• Capactiy: 6-Rounds